The game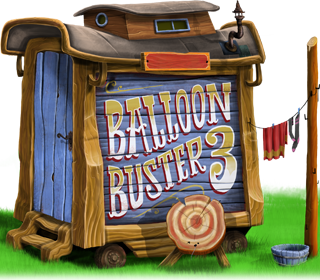 The third chapter in the popular Balloon Buster series, is a true circus spectacle of colourful balloons and a huge bang when they burst. The game features several play modes, plenty of power-ups and of course hours of pleasant entertainment in the world's only balloon circus. As always, you burst coherent groups of balloons of the same colour. The larger the group, the more points you get. The key element of the Balloon Buster 3 is the new plus-balloons! When they burst, you get more balloons - and the more balloons you burst along with a plus-balloon, the more new balloons you get!
Plus-balloons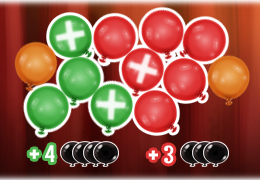 The top priority in Balloon Buster 3 is the new plus-balloons. If you use them well, you can reach far and score many points. Basically, you always have a limited number of balloons in each level, but plus-balloons lets you get more. Every time you pop a group of balloons containing a plus-balloon, then you get new balloons equal to half the size of the group (rounded off). If you have two plus-balloons in one group, you get as many new balloons as you have burst. If you have more than two plus-balloons in the group is gets even wilder - indeed you get even more new balloons than you have burst.
Game modes
The game features several game modes:
Round game
If you play round game, then you should reach as high a round as possible before you lose and start over. In each round you must blow a specified number of balloons to win. In the first round it is 100 balloons, and for each round the number increases with 10 balloons. However, the challenge is that generally you always start the round with 100 balloons, so it quickly becomes very important to utilize plus-balloons to get more balloons. Each round ends with a particular sequence where you get to burst any excess balloons. Each excess balloon you burst, you get to bring it to the next round - it is therefore very important to burst as many as possible. If you burst all balloons, then you have completed the round perfectly and you get a token bonus as well as a power-up. The top 50 players who have completed the highest round will be awarded prizes every 3 and 24 hours.
Challenge
You can play Challenge on three difficulty levels, which are unlocked as you get far in Round Game. Normal, Hard and Expert are unlocked, respectively, after round 5, 15 and 25. In Challenge you always get 500 balloons, and you need to get as many points as possible before you have burst them all. There are still plenty of plus-balloons, so you're going to burst more than 500 balloons before you achieve a place on the high score list. Again, there are token prizes every 3 and 24 hour for the 50 best players who achieve the highest scores.
Points
The number of points you get to burst a group of balloons depends on both the number of balloons and size of balloons - the more and the bigger balloons you burst, the more points they provide.
Power-ups
When you burst a balloon with a lightning, you get a power-up for later use. Power-ups are stored under the game area and used by you pressing them. Some are activated immediately, while others require that you point at it or at the balloons you want to affect. From the start you can only hold one power-up, but every time you complete a round perfectly, it allows you to store another power-up. You can store a maximum of six power-ups.

Crosshair
- with this power-up you can select a single balloon that you want to burst. It is useful to prevent the assembly of a larger group.
Brush
- you can get a brush in all the game colours. Use it to provide a single balloon a new colour. Effective when a plus-balloon for instance is surrounded by balloons in a different colour than itself.
Spray can
- the spray can is also available in all game colours. With this power-up you can change the colour of an entire group of balloons. It's a great way to make even larger groups.
Random bursting
- this power-up bursts five random balloons. This can be useful if the balloons are spread in a way that you don't have some good chances to burst large groups anyway.
Coloured bursting
- again a power-up found in all the game colours. When used it will burst all visible balloons in its colour. It is one of the game's best power-ups.
Rainbow bursting
- with this amazing power-up you can blow up all the balloons of one colour of your choise. Easily the game's best power-up.
Plus-label
- if you're missing a plus-balloon, this is the power-up you need. It can transform an ordinary balloon to a plus-balloon. Especially useful to form groups with more than one plus-balloon.
Tokens and Bonus spin

After each round you are awarded tokens based on your score. Along the way, you also have the chance to win a bonus spin by bursting balloon animals in the colours indicated on the tombola at the bottom left. The prize varies from nothing to 25,000 tokens.